Kristina N. Lotz
Pet Columnist & Entertainment Specialist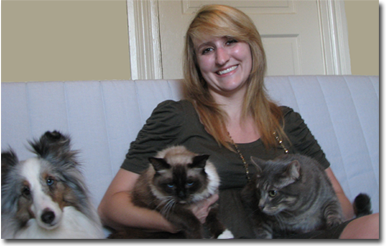 LosAngelesAreaLife.com is lucky to have Kristina's attention and contributions.
About Kristina
Growing up in Portland area of Oregon, Kristina Lotz had to have an animal, or six, at all times. "My mother has always said that animals have a natural affinity for me," Kristina says. "The feeling is definitely mutual."
From Horses and goats, to dogs and cats, to parakeet and gerbils, she has owned and loved them all.
As a freshman, Kristina helped found an equestrian team at her high school and competed in as many events as she could with her Quarter Horse gelding, Dusty. She was captain of the equestrian Drill Team all four years of high school, and captain of the entire equestrian team her senior year.
In 2005, Kristina received her Bachelor of Arts in English with honors, from Portland State University. She also worked as a manager for both Petsmart and Petco, and helped her mom open a dog supply store in 2008.
Her business dealings and collaborations with local rescues led Kristina to decide that a career in public relations was a perfect way to utilize her talents for good. So, with the encouragement of family and friends, Kristina went back to school for her Masters in Business Administration with a dual concentration in Marketing and Management, which she will complete in December 2010.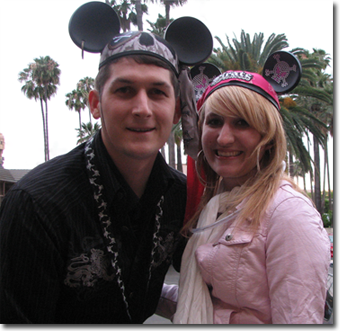 California seemed like the land of opportunity for a budding publicist, so in 2009, Kristina and her husband packed up their Shetland Sheepdog, Skye and gray tabby cat, Roxy (both rescues), and headed to Pasadena.
She's doing well in her new career. First, she excelled in an amazing internship with Alyson Dutch, CEO of both Brown & Dutch Public Relations and Consumer Product Events, which is where she met Deborah Shadovitz, and helped brainstorm LosAngelesAreaLife.com. Upon completion of her internship, Kristina took a position as Marketing/PR Assistant for Animal Behavior College. She is now workin g for — as you can guess — a pet-oriented company.
In her free time, she does independent PR as well as freelance writing and goes to as many Disney events as she can. Recently, she worked the red carpet at the Lost Finale party hosted by Global Cash Card.
Like all animal lovers, Kristina is a sucker for a sad story. She and her husband fell in love with a beautiful 4 year old Ragdoll Siamese who was the victim of a "kitty mill" while working at a Pet Expo. This brings their fur-kid count to three.
Kristina is looking forward to working with Animal World International. "I want more than just a career," Kristina explains. "I want to use my fire, creativity, and compassion to make a difference."
#LAAL