<![CDATA[
by Deborah Shadovitz
July 2011

As I start writing this I am watching CBS's Boston Pops 4th of July Celebration.
The beautiful, colorful Independence celebration is quite appropriate, given that I'm writing to share the greatest tip on how to become free of cable and satellite TV companies. A celebration of freedom and fireworks lighting the air as I watch it over the air for free. How perfect.
If you think about it, getting TV reception has been a challenge for as long as there's been TV.
Those of us who didn't live during TV's earliest days have seen the all-too-true TV comedies where someone has to stand and hold the TV's rabbit ears in just the right position for the picture to be clear.
I recall my father climbing up on the roof to reposition our roof antenna as one of us yelled the result to the next kid who then yelled up to the roof. That antenna was connected to a cable that ran through our attic, two stories down to connect to our family TV.
My family in an upstate NY valley had a community antenna to which each home connected in the '50s — long before "Cable TV."
Apartment buildings sported multiple TV antennas and either external or internal wiring enabling people to attach their TVs within their apartments. By 1983 apartment buildings in NYC were retrofitted with coaxial cable to bring in commercial cable TV and roof antennas became scarce.
When I moved into a large apartment building in Los Angeles, the roof antennas were long gone.
Then came the satellite TV option for homes and huge, ugly white or silver dishes cluttered roofs and balconies. (Some buildings finally called a moratorium on those things.) Dishes weren't any better than cable TV though, financially.
For years, people had no choice but to pay whatever fees the local cable TV monopoly (by design) or an available satellite company requested. You either paid the fees or tried to glean story lines from spotty audio and highly snowy images.
Thus, for the past couple of decades, we found ourselves paying a good deal of money to watch TV programs that were actually traveling over the public airwaves for free. Sadly, as all the roof antennas had long come down and their antenna wires had long been cut or pushed far into walls, we didn't see any alternatives.
Of course you may have gotten somethingover the air — one channel, when the wind was right, on a small TV by a window. Great for a spare TV in the kitchen, but not for The Family TV.
TV via antenna in 2011?
I have watched coaxial-cable-less and budget-cutting friends and neighbors here in Los Angeles try various antennas to get TV over the air. Tall, fat, wide, powered by clunky AC bricks… I tried several as well. They mightget a couple of channels. Maybe 2 and 4, but not 7 and up. Or 7, but not 2 or 4.
The move to digital TV didn't change anything. Whether with a digital converter or a digital TV, the results were similarly frustrating.
In 2010 and again at the start of 2011 an email list full of techies across Los Angeles discussed using an antenna to get a free TV signal for their great new or newish digital TVs. Some put outdoor TV antennas on their roof or patio, running a cable to their TV sets. However, that requires running that wide round coaxial cable to the TV. Perhaps this is an option for a homeowner as he/she can run that cable through walls or under carpets — although that can be quite a project. However, if you live in a multi-unit building or are an apartment or condo dweller you're likely stuck with that ugly cable lying on your floor. Additionally, you may not have a balcony or roof access.
And remember, you have to run that coaxial cable from the antenna to each TV in your home.
Yes! A viable alternative to cable or dish TV
My years of cable dependency or poor and limited reception ended in March when I happened across an ad for an HDTV indoor antenna called the Leaf.
The Mohu Leaf HDTV antenna was attractively pictured as paper-thin, just the size of a piece of paper, not requiring a power supply. Further, reading that it was created by the same people who design and manufacture antennas for the military and that it is designed and manufactured in the USA, I simply had to try this TV antenna.
I tested the Leaf HDTV Indoor Antenna on several digital TVs in several parts of Los Angeles — and everyone who saw the channels and images it gave them asked to keep it. This is a true HDTV antenna and pulled in a flawless 1080p signal even on a 55″ 3D TV. Each of those people purchased their own Leaf antenna. In fact, some own more than one.
Everyone LOVES this antenna! However Mohu does it, this nearly invisible antenna pulls in a perfect picture while providing much welcomed flexibility — all without drawing a single watt of power.
A Look at the Fantastic Leaf HDTV TV Antenna
Shipped to my home, the Leaf antenna came in a simple, 12″ square box that was barely an inch tall. It includes a simple, clear instruction sheet, the antenna and a couple of sticky disks so you can fasten it in place when you're ready. In stores it has highly informative packaging (shown below).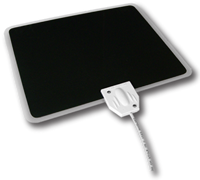 This antenna is, indeed, paper thin. It looks like two pieces of thin cardboard, laminated with a ¼" clear edge. (To give you an idea of the thickness, I can best describe the cardboard as being like the floppy, thin piece that comes in a woman's pantyhose package.)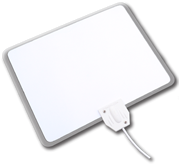 One side is white, the other side is black, so you can have either side face outward on your wall, helping you to camouflage it. Including the clear edge, it's 9″ tall and 11.5″ wide. (Shadows in these images make the edge look gray.) There's a thin plastic connector at the bottom that is 2″ x 2″ and " deep. A 6' thin white coaxial cable runs from that connector and has an easy-to-connect threaded F-connector at the far end.
Setting up the Mohu Leaf Antenna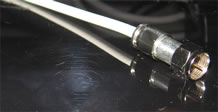 The only setup is to attach the coaxial cable to your TV's antenna-in, roughly position it on your wall, then use your TV's controls to scan for channels.
The Leaf TV antenna can be hidden by a non-metallic object, such as a picture frame or a tapestry, without significantly affecting its performance.
As a rule, you want to place it as high up as you can.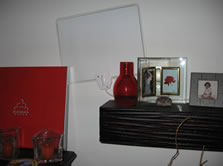 In my own home, I first rested it on a shelf about a foot over my 42″ Plasma TV and upon scanning, every single channel in my area was picked up. Once in a while my picture stuttered though, so in the months I've had my Leaft antenna, I've experimented with placement. I've learned that, perhaps because there's an apartment above me and I have heating coils in my ceiling, my reception is best when a few feet lower than the ceiling. I've also edged it toward my large window and now have flawless reception.I've rolled a bit of blue painter's tape behind it to keep it poised on a decorative shelf. White side out on my white wall, it's not very noticable. I'll hide it better as I redecorate and perhaps wall-mount my TV, but testing has shown it will still work this well.
For one neighbor's 42″ TV, I slipped it behind a rug that hangs on her wall and we got all but 2 channels. A slight move and we got all channels.
Another neighbor has a 55″ LED 3D HDTV mounted on the wall with a hefty tilt-swivel mount. The reception is ok but not great when the antenna is behind that mount. That is, he does not get all channels very well. For now, he is letting the antenna dangle and it works perfectly. The funny thing is that people aren't even noticing the antenna hanging there.
One neighbor was terribly disappointed that the antenna didn't work for her. All we saw was snow. That's because her TV, although a flat screen, was quite old and not digital. For a non-digital TV to receive the over-the-air signal, a digital converter is needed. (Her brother-in-law now has a Leaf though.)
Six feet works well but in case you'd like to place the antenna further from your TV, Mohu will soon be offering extension cables.
The Mohu Leaf is officially designed for locations up to approximately 25 miles from the broadcasting towers. However, I am receiving channels up to 50 miles away. For example, from Hollywood we received Riverside's KRCA-DT (62), KDOC (56) from Anaheim, and KPXN-DT (ION) out of San Bernardino.
People are impressed
Most people in my building have cable TV. At least a dozen residents have passed my front door, glimpsed my 42" Emerson plasma TV (a Wal-mart black Friday special) and said things such as: What a great picture! What TV is that?
When I helped the members of a certain tech squad who came to set up my neighbor's 3D TV, they stopped at my door to tell me they were done. They, too, asked about the TV. I told them it was the Leaf — the same antenna they'd just seen me try on the 3D TV. They couldn't believe the image quality.
The response is always the same, in pretty much the same words: 
That's an antenna? That's over the air? That's a free picture? You don't have cable? $44…that's less than I pay for two months of just getting the standard channels on cable! "Where can I get one?!"
There's plenty to watch
You might wonder if there is anything to watch on over-the-air (free) TV. Like many others, I'd gotten used to some of the great cable programming, and do miss some of that. But there is plenty on the air.
Two of my favorite free-TV channels are 5-2 (Antenna TV) which just launched January 1, 2011, and 5-3 (This.tv). Both are part of Tribune Broadcasting.
You are likely to receive it on the same main channel where you receive your local Tribune Broadcasting station. In Los Angeles, that's KTLA. It's also available by KRET, Palm Springs and KSWB, San Diego. To see if you can get it, try theirchannel finder page.
If you like watching TCM on cable, you'll probably be happy to find ThisTV on the air. For Los Angeles, it's channel 5-3 and the URL is KTLA.thistv.com. To see if it's in your area, and see the schedule, start with thistv.com, then click the orange Change button at the far right of the menu bar and enter your zip code.
ION TV provides some great eclectic programming and is available over the air. The ION TV website is IONtelevision.com.
KDOC, channel 50 out of Huntington Beach is now the main PBS affiliate and has some great shows, films, etc. Info at http://www.kdoctv.net.
KCET, channel 28, out of Los Angeles is now fully independent also has great eclectic programming. Info is at KCET.org.
And of course there are the long-time staples and other good channels.
Learning the channels available in your area
The Mohu website has a tab called Resources where Mohu lists the resources you need to determine how effective the antenna might be for you. For your convenience, here are two that will tell you which stations you may receive.
---
Antenna Tech Specs
The Mohu leaf is a multidirectional, non-amplified indoor TV antenna.

It is designed for operation in the UHF frequency band — 480 MHz to 900 MHz. It may also work for stations in the VHF band, but very few TV stations still broadcast on VHF.

Its cable is a 6-foot, 75 Ohm low loss coaxial cable. If cable extensions are required, make sure to use low loss 75 ohm coaxial cable.

Tip:
TVs manufactured after 2007 were
supposed to have a digital tuner in them. If your TV is older, even if it's a flat screen, it likely won't be digital and will need a converter box.

About Mohu

Mohu, Inc.
2800 Sumner Blvd. STE 166
Raleigh, NC 27616
Website full of great info about the TV antenna and over-the-air TV: GoMohu.com
Supplementing Over-the-air TV
If you're seeking a wider variety of programming, the internet is your solution. This is still a new option. Several devices give you Netflix over your TV, some offer more, and most are starting to offer yet more.
#LAAL
]]>