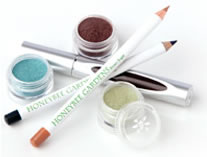 Makeup You Can Live With, Natural Makeup
by Deborah Shadovitz 
Makeup. We women don't want to go without — at least not on special occasions.
But what are we doing to ourselves??? The stuff that is in most makeup is shocking!!
Are you hit by the strong smell of what may be formaldehyde when you open your mascara? Have you heard about lead in lipstick? And then there's the question of Parabens, which per the FDA, "…are the most widely used preservatives in cosmetic products" and have been linked to breast cancer.
When we put makeup on your face, it's not just sitting on our face. Compounds are absorbing into our skin. When mascara flakes into our eyes, what is it doing to our eye and where ever it goes? We all see that mascara and eye liner land in our tear ducts. We all lick our lips.
Like all women aware of the issues, I don't want to live without my makeup, but I do want to live and be healthy, not kill myself or make myself ill just to look nicer.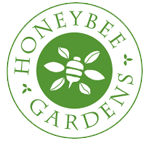 So I was excited when I happened upon Melissa Hertzler and her attractive Honeybee Gardens makeup display at Natural Products Expo-West.
Both Melissa and her display said light, easy, comfortable, pretty — and when I overhead her telling another attendee her prices, I just had to talk with Melissa.
I expected makeup that carries an "All Natural" tag to carry a premium price, as I have seen in Beverly Hills. But Melissa wants everyone to be able to have and use her natural products, so she prices comparably to what you'd pay in a drugstore. As I told Melissa on the spot, I have a great, great respect for her for that.
Makeup that is not full of chemicals, that won't hurt us, that works beautifully — and that costs what regular makeup costs!
I left with two of their natural items:
JobaColors Eye Liner ($7.99) and Truly Natural Mascara ($10.99).
All of my makeup-wearing life, I have dealt with eye-liner smudging below my eyes. Even waterproof make-up didn't solve the problem. However, the Honeybee Gardens eye liner has never smudged on me.
With my Honeybee Gardens eye liner on, no one has ever come up to me and said I have a smudge under my eye. And I used it through a Southern California summer of record-breaking heat. I don't know what it is about this makeup, but this is big for me!
The claim for the eye liner is, "This smooth, jojoba-based formula won't drag or pull delicate skin. Glides on gently and fluidly from the moment you open it. Easy to apply for a perfect, long-wearing look." From my experience, this is a perfectly accurate description.
The mascara goes on easily, really doesn't clump, and doesn't break or flake off. I can layer it, which I'll do at times, without it looking fake.
I've been using these two Honeybee Gardens items for months now, and have been raving about their greatness to everyone I can. This stuff is not as "good as other makeup" — it's far, far better!
The colors, charcoal colored at eye liner and Espresso – black/brown mascara, were Melissa's recommendations. They're not what I'd have selected, but they turned out to be terrific colors for me. She does know her product well.
I'm 100% sold on Honeybee Gardens cosmetics and am converting my entire makeup bag over to the brand. Whether you're concerned about your health and want to use makeup that is as natural as possible, or not, this is an excellent, highly affordable makeup line.
To see if today's make-up is as bad as people say it is, I searched for the ingredient list of some common mascaras. It wasn't easy to find ingredients. Honeybee Gardens lists their ingredients right on each product page, so that part was easy.
Here is some of what I found.

Honeybee Gardens Truly Natural Mascara
Mascara Ingredients:
purified water, vegetable glycerin, beeswax, copernicia cerifera (carnauba) wax, vegetable glyceryl stearate, lecithin, vegetable stearic acid, safflower oil, glycine soja (soybean) oil (and) aloe barbadensis leaf extract, simmondsia chinensis (jojoba) seed oil, silica, cellulose gum, tocopherol, xanthan gum, chamomilla recutita (matricaria) flower extract, rosmarinus officinalis (rosemary) leaf extract, cucumis sativus (cucumber) fruit extract, phenoxyethanol. May contain: mica, titanium dioxide (CI 77891), iron oxides (CI 77491, 77492, 77480).

Maybelline Great Lash Mascara
Mascara Ingredients:
Petroleum Distillates, Pentaerythrityl Hydrogenated Rosinate, Carnuba Wax, Polyethylene, Synthetic Beeswax, Quaternium-18 Hectorite, Ceresin, Magnesium Carbonate, Beeswax, Kaolin, Aluminum Stearate, Silica, Propylene Carbonate, Cetyl Dimethicone, Tocopheryl Acetate, Wheat Germ Oil, Methylparaben, Propylparaben, Butylparaben, Iron Oxides (May contain), Titanium Dioxide (May contain), Ultramarines (May contain), Mica (May contain)
Source: buymebeauty.com/maybellinegreatlashmascara.aspx
Note: I looked at the info for several other brands here, but didn't find their ingredients listed.

CoverGirl LashBlast Length Mascara Very Black 800
Mascara Ingredients:
Water (Aqua), Glyceryl Stearate, Ammonium Acrylate/Acrylamide Copolymer, Disteardimonium Hectorite, Propylene Glycol, Stearic Acid, Alcohol Denatured, Copernicia Cerifera (Carnauba) Wax (Carnauba), Triethanolamine, Synthetic Wax, Acrylates Copolymer, Polyvinyl Alcohol, Lecithin, Propylene Carbonate, Polyethylene, Oleic Acid, Benzyl Alcohol, Nylon 6, Ascorbyl Palmitate (Vitamin C), Tocopherol (Natural Vitamin E), Phenoxyethanol, Panthenol, Simethicone, Ethylparaben, Glycine Soja Oil (soybean) Source:.amazon.com/CoverGirl-LashBlast-Length-Mascara-0-21-Ounce/dp/B002IFT5VA

In more than three clicks on the Almay website, I could not find mascara ingredients. That's three clicks starting with the Almay result from a search for "almay mascara ingredients" on google. I had the same result with Cover Girl.

Note: My research on the web says that formaldehyde is not listed as an ingredient in makeup but is said to be there as a result of the preservatives.
---
You want me to choose makeup online?
Melissa understands that it's hard to choose makeup colors online, so she offers sample sizes for sale to help you get to know the colors.
---
About Honeybee Gardens
Honeybee Gardens has a full line of natural cosmetics for women, including nail polish. There is also an Herbal Aftershave and a Deodorant Powder for men. (Yes, there is Deodorant Powder for women.)
You can read more about Pennsylvania-based Honeybee Gardens history, philosophy and mission directly from Melissa at http://honeybeegardens.com/aboutus.html.
Orders are typically shipped via the United States Postal Service or United Parcel Service. Naturally, Melissa does her best to keep shipping charges down. Shipping is calculated on the basis of the total amount of the purchase. You can learn more on her ordering page.
---
Other Resources for Makeup Info
---