The Instant Button®
A simple movable button keeps your waist comfortable & keeps you looking your best and works for blouses and shirts, too.
Isn't it a great feeling to find that shirt or those pants or jeans that fit just right and feel so great?
And isn't it frustrating to put that fabulous garment on and find that the waist is too tight or lose and it just doesn't look or feel right?
Until I met Dana Hanh Contey, I'd pass on wearing those pants/jeans/skirts when the waistband felt too tight, or would spend the day hiking up my stretch jeans when it was too stretched out. Now I just carry an Instant Button with me and I'm prepared for comfort no matter how the day goes.
Dana's Instant Button® is so simple you'll wonder why you didn't think of it — and so brilliant that once you try one you'll be glad she did!
Here' show the Instant Button makes your jeans tighter. Only the extra button shows.
To give your garment more waist, simply place the button on the other side, closer to the edge.
But you'll have to cover your dual button look with your shirt.
I was not an easy sell. I had two key issues that would make the "button" unusable or uncomfortable:
It might come off.
It won't be any good to you if the back comes off. Not only would the button fall off, but it would hurt quite a bit too, and perhaps ruin your other clothes. In my many months of testing, this has not been an issue. The Instant Button works like a tie tack. You have to pull the extended piece of the button's back, in order to release its grab.
It would poke, rub, or irritate.
After all, there's bulk to the back of the bottom. The tie-tac mechanism looks kind of deep when you look at it. In fact, it's just under ¼" deep, or 6mm. How could it not bother you? Well, I don't know why, but it doesn't bother me. I have never been in the middle of a conversation and suddenly realized I was feeling this button. (Have you ever used a safety pin?)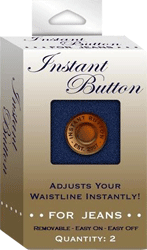 So I was hooked!
Since discovering the Instant Button, I made a habit of keeping one in my handbag and gave buttons to my mom and other women in my family.
Instant Button® Comes in Two lengths
There are actually two different button stem lengths. The 6mm is for making your the waist tighter. To go looser you'll often need to penetrate more fabric, so there is a button with a longer 8mm length stem as well. Each $15 box comes with both lengths.
Movable Instant Button® Colors choices
The original button comes in two colors:
copper with black and silver with white, to reflect the common jeans button.
In addition to the original boxes of copper or silver buttons, you can now get a fancier Instant Button that is not only great for fancier jeans, trousers or skirts, but is also helpful on shirts or blouses.
These buttons have a large clear Czech Rhinestone on a fancier embossed gold or silver plate design. Their stems are 6mm. Each comes separate and is $13.
Low-cut Blouse or Wrap Top Solution
The Rhinestone Instant Buttons are also terrific when you're caught with a lower-than-desirable neckline on your blouse. Women know the fancy pin trick, but a pin may not always achieve the right look.
Generally Helpful
The Instant Button is a simple little invention, but is has many a good use. It'll come in handy when you wear a shawl, when you attempt to wear a sarong (an excellent item to pack for travel, along with the Instant Button®).
The Instant Button is not just for women although I realize I've been focusing on women. The original buttons fit a man's jeans just as well as a woman's. I'll be there are many men out there who would find one of these very handy after Thanskgiving Dinner!
They even make handy cuff links!
Invented by a Regular Mom
One of the things I love about the Instant Button is that it was invented by a woman who saw the need for herself and others and created it. This is not a need created by a big company to sell us more things we don't need.
As Dana explains on her website: "In the Summer of 2007, I had my "Ah-ha!" moment. With inspiration from the guests on the Donny Deutsch show, The Big Idea, I launched the Instant Button® on October 17, 2008."
Where to Buy Instant Buttons
You can purchase Instant Buttons from the official website or from several resellers.
The website: InstantButtonForJeans.com
The where to buy page: InstantButtonForJeans.com/retaillocations.html
Photos by Jim Bastardo.