This is page 3 of our article about rafting on the Kern River.
The Kern River is close enough that from the Los Angeles area, you can leave home in the morning, enjoy a day or two on the river (camping overnight), and return home. One of my friends did just that. I wanted more relaxation so my other companion Lorrie and I stayed in Kernville before and after our two-day rafting holiday.
For our first night, I wanted to experience the town, so I selected the Kernville Inn, which sits beside the river and is right on the main street. After our trip, we stayed outside of town at Chuck Richard's Falling Waters Resort. As both, our "room" included a kitchen and living room, great for families and long stays.
Kernville Inn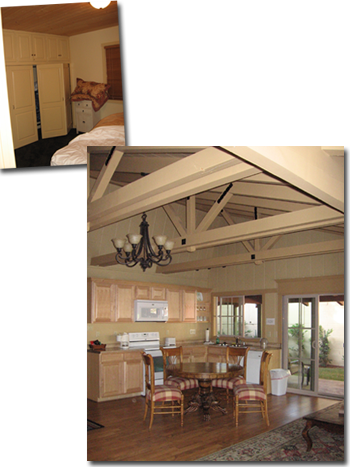 The 28-room Kernville Inn, built around 1957, was purchased by a new owner around 2006 and was fully remodeled. Owner Tim Ryan calls it country style, but it's woodsy and stone fireplace country decor, not ruffles. This is a great hotel for families or groups that want to be on the river and downtown near the bar and shops.
About half of the rooms face the river. Most rooms have patios, seven have kitchens, four have microwave and mini-fridge, and two have a second bedroom. All rooms are non-smoking inside. (You can smoke outside.) There's a pool out front, and yes, free wi-fi that should reach all the rooms. I fully enjoyed our large, comfortable room and private patio.
When we were there are large group was staying in the row of river-facing rooms, enjoying each other's company on the wide lawn outside their front doors. It was perfect for their group Bar-B-Q, too. This is just steps from the river, making it easy for both children and adults to run over and cool off. This is perfect for such group holidays. (Had we not seen the group, we'd never have known they were there. There was no noise issue for us on the other side of the hotel.)
Folks wanting to enjoy the live music right across the street in what amounts to downtown Kernville, can just walk over and not worry about driving home.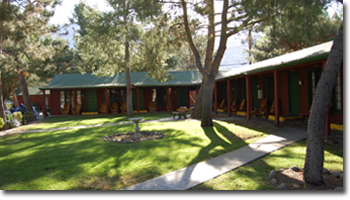 A .2 mile walk away you'll find the Sierra Gateway Market, which "is huge and sells everything" according to my friend Lorrie, who ran in to get Advil after our first river run.
Across from the Sierra Gateway Market is the Kern River Brewing Company, a good place for a real burger and fresh-brewed beer.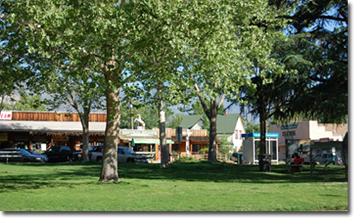 Kernville Inn
11042 Kernville Road, Kernville, CA 93238
KernvilleInn.com
(760) 376-2206
---
Falling Waters Resort
Chuck Richard's place is off the beaten path, but just 2.4 miles from the town, making it an excellent getaway. I'm told people love to stay for weeks and fish. It's also terrific for families, and families do, indeed, come for their summer vacation. Its 13 acres even include meeting facilities.
Standing outside of our River View cottage, and looking down, I could see some the Lickety Split section of the river. I loved the sound of the river, remembering the thrill of rafting it with Chuck. The River View cottages are in a serene and relaxing, location where the air is fresh from the moving water below and greeenery all around. Other cottages face a children's playgroud, or woods.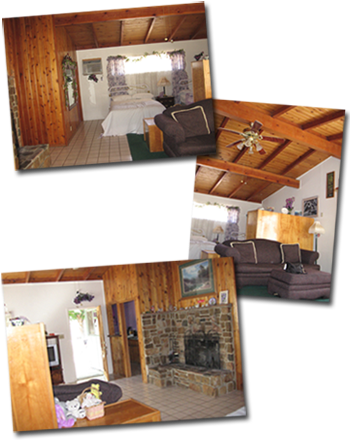 Falling Waters is like a tiny town of 15 free-standing buildings, comprising 30 cottages. All but three cottages contain kitchen stoves, kitchen tables, fireplaces, and couches. There's a pool in the center of the grounds, playground equipment for kids, and Bar-B-Qs. The staff also has roaster ovens, electric skillets, blenders and more. Just ask. All rooms are non-smoking inside, and of course, there's free wi-fi reaching most cottages.
When you see Chuck's cottages you'll know part of why the folks who work here enjoy their jobs and part of why guests get an extra kick out of staying there. Each cottage has its own theme — from colors and curtains to tchotchkes that build its personality. We stayed in the Lilac suite, below.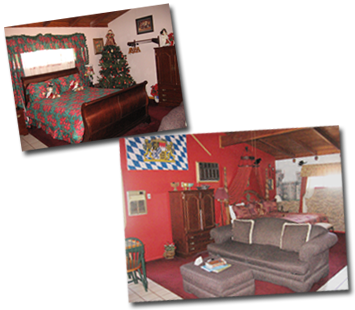 Next door to us the theme was Under the Sea. Others include King Arthur's Chamber and Christmas Egyptian Nile which you see below, Pirates Cove, and the heart-filled Romance. It's unique fun. The staff gets into it, adding pieces they find where ever they may go.
Because it's 2 miles from the Sierra Gateway Market and the nearest eateries, you'll likely want to use your car while staying here. Or, as many families and fishermen do, bring your week's food supplies.
Falling Waters Resort
15729 Sierra Way, Kernville, CA 93238
ChuckRichards.com/Kern
(760) 376-2242

---

Hotel photos by Laureen Mitchell

#LAAL

Previous page: things to do around Lake Isabella