Head to Redondo Beach!
Ah! The beach. Getting out on or in the water…
A part of Los Angeles, a day at the beach & in the water…
by Deborah Shadovitz & Lisa Landis
On any day when you've had enough of the Los Angeles heat, of endless pavement, cars, and homes, take a moment to remember that we in Los Angeles actually have an ocean and accessible beaches waiting to be enjoyed. Then give yourself a break and go enjoy the ocean air, the infinite view — and perhaps the different feeling of being in or on the water. One of the nicest, easiest places to do this is Redondo Beach. Go for a day, a few days, or just a few hours.
Redondo Beach has clean water and a beach that's expansive and clean. King Harbor provides a safe area for fishing and pleasure boats. The Municipal Pier is nice to walk along or fish from. There's another Pier as well. Several excellent eateries are right in the area and there's a nice strolling/shopping area as well. If you visit Redondo Beach in summer, you have the option of several on-the-water activities. In winter months there's whale watching. And there is always bicycling and walking along with the great air and views.
When my cousin Lisa came to Los Angeles to visit, we headed straight out of my Los Angeles postal code and to the water-enhanced air of Redondo Beach.
Although I live just about an hour away, we decided to stay overnight in Redondo, making it a true vacation. We stayed at the Crowne Plaza Redondo Beach and Marina Hotel, just a parking lot away from the beach and its activities. It's a beautiful 339-room business class hotel that's welcoming from the moment you walk into the marble lobby and notice the huge high salt water fish tank amid the varied, inviting seating areas.
There on Sunday and Monday night, we were lucky enough to get an ocean-facing room, complete with our own balcony. (Every room has a private balcony.) We certainly loved starting and ending each day taking in view of the Pacific, King Harbor and the Redondo Beach Marina. Each of the rooms on the side of the Crowne Plaza also feature an ocean view as the windows are creatively set on an angle.
There was so much to do though, that as nice as the room and hotel was, we headed out for the day. We did have plenty of time to enjoy the hotel, and especially its fine restaurant, Splash, later on. (More about the hotel.)
Bicycle The Strand & Riviera Village
One nice way to get to know Redondo Beach is to bicycle along the beach on The Strand and though some the town. We borrowed (rented) bikes from our hotel and spent a few hours on a nice, slow ride. We mention this first only because the sun tends to come out in the afternoon, so it's best to bike in the morning.
If you're a guest at the Crowne Plaza you can rent from the hotel through the Concierge (Bellhop).
Alternately, there's a bike rental stand on North Harbor Drive directly across from the Crowne Plaza.
We turned left out of the hotel doors and cycled down North Harbor Dive a bit, then onto the Redondo Beach Municipal Pier. While on the Pier, per the rules, we walked our bikes as explored, stopping to watch people fishing (no permit needed) or just having fun, to enjoy the views, to talk.
Leaving the Pier we followed the bike path, bicycling further south on the paved beach path that is part of The Strand.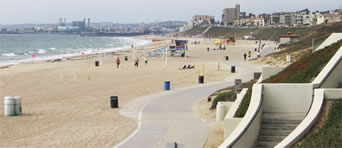 We rode about two miles along the ocean, pretty much to the end of The Strand (around Torrance Beach) where the view north looked like this. Then we turned inland around Via Riviera and road a couple of blocks to cruise through Redondo Beach's Riviera Village.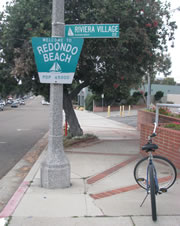 Riviera Village is a bit of an upscale, old-worldish shopping main street said to have over 300 shops, restaurants and services. One shop we particularly liked was Harmony Works, full of lovely works of art, gifts and jewelry.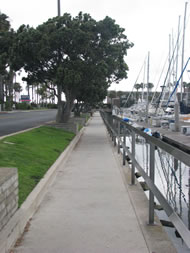 Continuing north, we passed our hotel, the Crowne Plaza and continued on to explore the Portofino Hotel & Yacht Club and Rocky Point.
The boats, the views, and the water were, of course, beautiful and magical.
---
By the time we'd had enough riding we were ready for lunch and some time on the water.
If our goal hadn't been to see Redondo Beach, we could have bicycled north instead, as The Strand runs all the way to Pacific Palisades, north of Santa Monica. You can read about The Strand on wikipedia.
Pedal Boat Rental
Along the wooden pier that's off the open parking lot, you'll find a yellow booth for the SSV Looking Glass, Pedal boats and Kayaks. All are options for fun on the water (and are only open in summer months).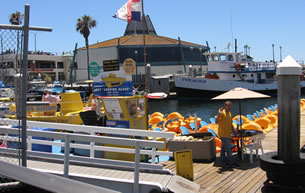 The pedal boat is a nice way to cool off on a warm day. You get to feel a bit of the sensation of riding on water. You can reach out and touch the water. You get to be out among the sounds of the water, pause, listen and hear those sounds.
You see some of Redondo's Harbor from the water. Piers look different from below and you're closer to the fish.
A pedal boat is also a great way to get some leg exercise; it takes a lot of pedaling a lot to cover any distance. And because the pace is slow and you're not traveling quickly, it's a perfect opportunity for conversation.
Parents might enjoy these boats as a great way to take a younger child out on the water. We saw families go out, parent and child in one, the other parent and child in another, and siblings (or friends) together.
These are not a great way to tour the harbor due to the amount of work and lack of speed though, so we recommend you also take a ride on the Voyager. (The Voyager is not part of the same rental stand and has a separate owner.)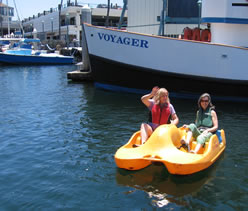 We took a pedal boat out for about an hour, getting out past and around some piers, then floating around for a while before turning back. (This is just us getting started; there was nobody to take a photo once we were further out.)
For 2010 and 2011, hourly rental is $5/child & $10/adult.
For hours of operation, visit this page at FastKayak.com.
---
Kayak Rental
Kayaks are a different experience, and are another great way to cool off. You can rent either a single kayak or a double. We opted for the double as (a) it was Lisa's first time on one and (b) we wanted to spend the time together.
Kayaks are quiet, you can move slowly or cover a lot of ground quickly, they don't require great effort, and although they might look as if they'll put you over, they don't. Kayaking is a great experience that anyone can enjoy. As Redondo Beach's King Harbor is a protected area, it can be quite calm and can be a perfect first kayaking experience.
The kayaks are sit-on-top style. You sit with your leges out in front of you and have a short back rest to lean back against. (It's adjustable and the staff will help you get comfortable.) Because you're climbing in from the dock, you don't have to get wet, but there is a chance your bottom will get wet, and you might want it too as the water is fun. When it's warm, you'll dry off very quickly but you might bring a change of lower garments in your car or backpack just to be safe.
A kayak paddle is a two-sided stick with paddles on each end. Holding it firmly in the center, you dip one end in first, then tilt the stick to dip the other end in the other side. One a double kayak you want to do this in synch. With a bit of luck you get a synchronized rhythm in a few strokes. The person in back steers by keeping a paddle in the water to turn. You can travel quite quickly in a kayak.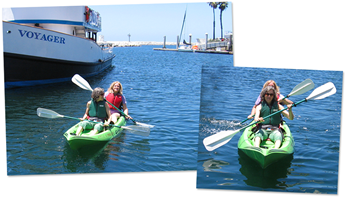 We paddled out to the breakwater (the row of stones you see in the photo above) then headed to the right (north), then to the south (but not under the Municipal Pier as that is not permitted in rentals). It was fun to get up close to the sea lions, to see boats and yachts up close, and explore around many of the buildings. This was a good, reasonable exploration for an hour.
For 2010 and 2011, hourly rental is $15/single & $25/double.
For hours of operation, visit this page at FastKayak.com.
Voyager Nature Cruise boat tours of the harbor & whale watching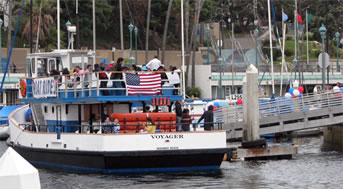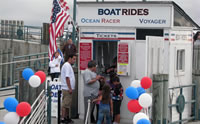 The Voyager is a two-level boat that, in the summer, takes you around the harbor and in winter brings you out to the migrating whales.
The summertime Nature Cruise is a 30-45 minute tour taking you out past the breakwater into the ocean to see the view and learn about the area. On board, you'll travel a 3-4 mile loop to the base of Palos Verdes Peninsula and back.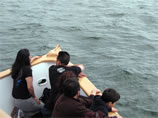 A Naturalist actually comes on the boat with each group and narrates the trip.
In the warmth of summer, which in 2010 and again in 2011 seems to start in late July, guests see dolphins on almost every trip. (We were there too early to see them, so no dolphin photos here but this family had fun watching fish.) Sea lions are also always a hit with families — and adults.
The Voyager boat ride is Redondo Beach's best option for families — especially for children.
This ride is an excellent introduction to boats, the ocean, and a view of the coast from the water.
Captain Brad Sawyer, a fisherman turned whale captain, and the Naturalist were very friendly when the the more adventurous and inquisitive children came forward to see the cabin and ask questions.
Voyager offers cruises:
on the hour from 4 p.m. – sunset on Friday evenings
1pm to sunset on weekends, depending on the demand
(Sunset is 7 or 8 p.m.)
They are available for private charters and event during the weekdays and weekends year round.
---
Whale watching on The Voyager
If you come to Redondo Beach during the winter months, you can take a whole different ride on The Voyager — going out further into the ocean to where the whales are as they are migrating.
As we heard it, Captain Sawyer doesn't just take the Voyager on a set route, hoping to see the migrating whales. We're told he works hard to learn where the whales are, and goes out to them. To give you an idea of what the whale watching tour entails, the boat burns 5 gallons of gas on harbor area tour, but about 25 gallons when it goes out after the whales.
You never know what a whale watching experience will be from one day to another. One trip brought quite the surprise when a Fin whale came right up to the boat!
The whales feed on krill, Captain Sawyer explained, and the krill were hiding under the boat as they tend to do. The whale was simply going for the food. Imagine being on this boat as a Fin whale comes toward you! It was a bit of a scare, and certainly a thrill for everyone on board.
Whale watching is possible while the whales are migrating down to Baja. Officially the season is from November or late December through mid-April. However, Voyager adjusts their schedule per the migration.
For example, if Blue whales came through the area in fall 2011 like they did last fall, Voyager will again adjust their schedule do you have the opportunity to see them.
Be sure to check VoyagerExcursions.com. for current schedules and daily whale sightings.
---
For info and reservations call 310-944-1219.
You can also learn about fees, hours, and more for the Voyager at VoyagerExcursions.com.
It's particularly important to check their website for the whate watcing schedule.
You can also learn about the whale sighting and excursions on their facebook page.
---
SSV Looking Glass Sub-Sea Tour
The SSV Looking Glass — a glass-sided boat — is a summer only experience, good for families.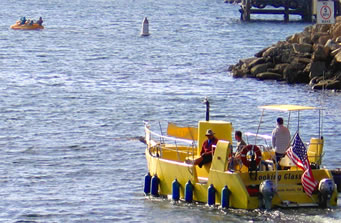 Upon boarding the boat, everyone descends the stairs, moving below water level, then takes a seat in the center of the boat, looking outward to view the life within the ocean.
Over the speakers Captain Casey tells you about the fish that come into view.
After we passed the pier area and were a bit further out in the water, the boat stopped so we could rest among the fish and watch them better.
We saw:
Opaleye Perch
Garibaldi our state fish
Calico Bass (they have orange spots at their bottom)
Sea stars (they're not really called Star Fish)
Other fish I'm not sure we saw: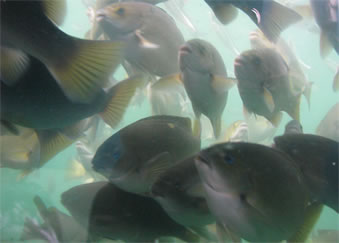 Another stop was at this floating platform. The sea lions appear to like it and we enjoyed watching them.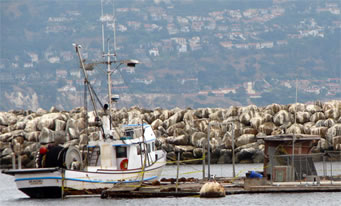 Some of the children on board were quite excited by this entire Sub-Sea Tour; they were not only experiencing a boat for the first time, but also seeing and learning about ocean life for the first time.
"Look here," heard a child call out. "Oh, here!" a mother called. And the kids ran from one side or the boat to the other. (On this day the boat had enough room for them to do that.)
One of the mothers we met on the Looking Glass said she lives an hour inland but hadn't thought of bringing her children to the ocean like this, meaning to a harbor. Seeing how excited they were, she was so happy that she'd finally come. It was easy, she said. She'd be back.
The Looking Glass doesn't actually leave the protected area within the breakwater. It provides its full experience in a very small area, the same area you can kayak or pedal. But since it's an under water it's very different from any of the above the water activities.
For 2010 and 2011, the ride is $10/child & $15/adult.
For hours of operation, visit this page at FastKayak.com.
---
Other things to do at Redondo Beach
Sport Fishing Pier
If you're into fishing, you can fish on your own off the main pier — or visit the sport fishing pier to sign up for a charter fishing boat, or to purchase bait or other fishing supplies.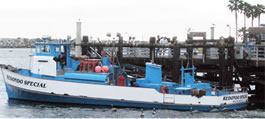 Gondola Cruises
Gondola Amore offers romantic sunset or moonlight gondola rides around Redondo Harbor.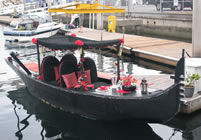 More Kayaking
There's another kayak rental as well, located on the tip of Potifino Way, at Rocky Point Marine Fuel. They rent skiffs (motorized rowboats) and kayaks.
Sailing Lessons and Charters
There are also sailboats, lessons and charters. Check out South Bay Sailing if you'd like to learn to sail or improve your skills, or to charter a sail boat. They also have a Youth Camp. You can learn about all of this at SouthBaySailing.com.
---
Parking for these Redondo Beach activities
Off of North Harbor Drive, you'll notice a huge uncovered parking lot where from north to south you'll first see the Sport Fishing Pier (home to Polly's), then Ruby's Diner, a free-standing restaurant called Samba, one called On The Rocks, then Captain Kidds Fish Market and Delzano's. This parking lot is the correct one for each of these restaurants — and for each of the water activities we discuss here, which take place not on the Municipal Pier, but at the wooden walkways just north of the larger cement pier.
All the restaurants in this parking lot area validate your parking for 2 hours so. It will cost you $2 for those 2 hours. After that, parking is $2/hour, up to a $20 max. The FastKayak concerns (Looking Glass, kayaks and pedal boats) also cover "up to 2 hours" of your parking. Voyager validates as well. (They can't validate if you park in the Municipal structure.)
If you're going to the Municipal Pier for meal, use that covered parking structure. Most of the restaurants validate your parking for a couple of hours. The price of parking is about the same for this parking structure.
This parking pricing info is accurate for 2011.
These are year-round rates.
---
Read about some Redondo Beach restaurant options on this next page.
Learn about staying at the Redondo Beach Crowne Plaza hotel.