Three Napa Valley Dog-Friendly Stays
For wine-lovers and those who love beautiful countryside…
Dog's Wine for Napa Valley Inns
by Kristina N. Lotz (Sept 2010)
For wine-lovers and those who love beautiful countryside…
Few things in life are better than sitting on a deck at a Californian vineyard, tasting their sweet wine. Unless, of course, you are sitting on a deck at a Californian vineyard, tasting their sweet wine — and your best canine friend is lounging on the deck next to you, eating wine-flavored dog biscuits.
Just about 6½ hours from downtown Los Angeles, the Napa Valley has long been one of hottest vacation destinations for Southern Californians, and now with the many resorts and vineyards becoming pet friendly, your dog can wine and dine right along with you.
---
Napa River Inn
Situated right on the Napa River, this stunning hotel is in the historic Napa Mill and offers luxury resort-style spas and lush accommodations for pet owners who do not want to sacrifice comfort in order to bring along their companion.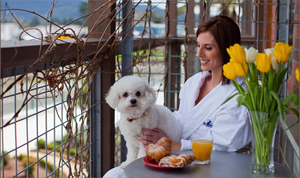 The Inn is committed to treating you and your dog like royalty, starting with their "Very Important Pet (VIP) Program." The package includes a pet blanket embroidered with the Napa River Inn Logo, a logo placemat, stainless steel food and water dishes, Napa Valley-based "Cab-Bone-Nay" or "Char-Dog-Nay" dog biscuits made from real wine, plastic doggie walk bags.
In addition, the Inn has essential pet resources for the traveler, including an on-call veterinarian, dog walkers, pet-sitters, and even souvenirs, not to mention a large selection of dining and historical tourist attractions within walking distance.
Prices for September (2010) start at $229 for one night.
The VIP fee is $25 per night.
500 Main St, Napa, CA 94559
(877) 251-8500
The Napa River Inn is a member of Historic Hotels of America, the National Trust for Historic Preservation.
---
---
Little River Inn
If you prefer the ocean to the Napa River, the Little River Inn is the place for you and your pooch.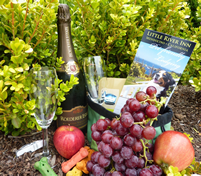 To celebrate California Wine Month, Little River Inn is pulling out all the corks and offering a special "Wine Month Pet Friendly Wine Touring" package. The package pampers both pets and people and includes: a bottle of Anderson Valley's Roederer Estate sparkling wine, two Little River Inn champagne glasses, a portable dish for your dog, and, for your wine tours, a list of local pet friendly wineries and a fruit and cheese plate packed up and ready to go with you.
This special package was only available throughout September 2009 and cost $50 in addition to the room rates, which start at $225. We keep this article here because other offers like this may be available.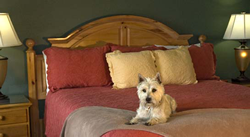 The Little River Inn website has a comprehensive pet section, filled with information about pet friendly parks, gardens, restaurants, pet-sitters, toys, apparel, food, and, of course, pet friendly wineries. In fact, the Inn lists fifteen Anderson Valley wineries that allow pets; plenty for even the biggest wine aficionados to choose from.
Pets can join their parents for dinner in the Inn's front parlor and they even have a new menu just for pets.
The Inn's 5th Generation Innkeeper,
Cally Dym, with her Bernese Mountain Dog, Rosie.
LittleRiverInn.com
7901 N. Highway One, Little River, CA
888-INN-LOVE
Photos courtesy of the Little River Inn.
---
---
The Inn On First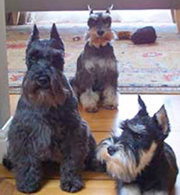 If you prefer the small charm of a bed and breakfast, but still want the modern luxuries of a spa, then The Inn On First is the place for you. Co-run by the "Princes of the Inn," 3 miniature schnauzers named Oscar de la Renta, Hugo Boss, and Calvin Klein, the Inn gives every pet guest a toy, treat, clean-up bags, welcome letter with information about pet services, a custom pet bed, and a food and water dish with a floor mat.
The Inn has several unique pet amenities, including a gated, off-leash, dog area complete with a doggie shower station that has shampoo, conditioner and towels for guests to use.
The Inn also provides pet-sitting, dog-walking, professional grooming and a guide to pet friendly restaurants and tasting rooms in Napa Valley.
Room rates start at $195 a night in the winter, $250 a night in the spring and fall, and $329 in the summer.
Breakfast is served in the exquisite garden where pets are always welcome.
TheInnOnFirst.com
1938 First Street, Napa, CA 94559
(707) 253-1331
(866) 253-1331 — within the US only
---
---
Tips For Traveling With Your Pet
When taking your dog on vacation, it is important to pack in order to ensure your pet enjoys the trip as much as you do.
A must-have for any vacation is a dog first-aid kit. Many different manufacturers sell these in convenient, easy-to-carry bags. Or, you can make your own.
The American Veterinary Medical Association has a checklist of items that should be in your homemade kit at AVMA.org/FirstAid/Supplies.asp.
Since this trip includes a lot of driving, both to and from Napa and between wineries, a portable water dish is an absolute must.
One of the best, made by Furry Travelers, Inc., is The To Go Bowl, which fits into your car's cup holder and is the perfect food or water dish for pets on the go. It has a splashguard to prevent spills and a compartment for storing a small amount of food. You can buy it on their website at FurryTravelers.com.
Be sure to bring along your dog's favorite toy for times when you have to leave your dog alone in the hotel room. If you plan on leaving for extended periods, an interactive toy that will keep your dog from getting board and becoming destructive or barking is a good idea as well.
A good brand is Premier Pet that has a line called Busy Buddy, which includes some durable and unique interactive food toys. Kongs are always a good choice too. Both brands can be found at all major retailers and online.
---
---
Happy Trails!
#LAAL