Wine Focus — Grgich Hills Estate, Fume Blanc
Consistently reliable, and organically, biodynamically grown
by Debbie Chinn
The Grgich Hills Estate winery is located on St. Helena Hwy in Rutherford, CA
(about 383 miles from LA's City Hall).
Grgich Hills' Fume Blanc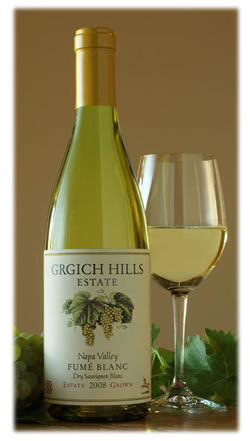 I always order with confidence when I see a Grgich Hills label but in particular, I have not gone wrong with a Fume Blanc.
It's consistently reliable; easy and refreshing on the palate with aromas of citrus and melon. I don't care for wines that are over-oaked which makes me partial to the delicacies of this Fume Blanc. I'll drink this with grilled chicken or seafood (shellfish is a winner with this wine) or as my aperitif.
You can expect to pay about $30/bottle which, divided by five glasses per bottle, is an economical $6.00/glass. Grgich Hills can be found in most wine shops and supermarkets in California. You can also order from their website.
Grgich Hills advises that since this peaks within 2-3 years, it's best to drink it while it's still young. There's no need to deep cellar this, but do serve it nicely chilled to get the flavors going.

Organic and biodynamic
Grgich Hills has been organically farming its vineyards since 2000 and all of its acres are certified by the California Certified Organic Farmers. In 2006, the winery converted to biodynamically farming its vineyards, making it the largest biodynamic grape grower in the US.
What is biodynamic farming?
At its simplest terms, biodynamics is a holistic farming practice that treats the vineyard as a living organism and uses the earth's natural cycles (phases of the moon and positions of the planets) and organic preparations to grow balanced, healthy vines.
---
Visiting and Tasting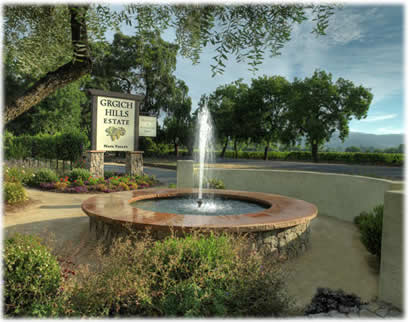 The Grgich Hills Estate winery tasting room can get crowded and uncomfortably congested since it is smack dab in the heart of Napa Valley.
A fun time to go is during harvest (late summer through late October) and they'll let you stomp grapes for a nominal fee.
Their tasting fees are on the high side but you get to keep a commemorative glass. The glass is fun while you're a newbie, but the more you go on these wine-tasting expeditions, the last thing you're likely to want is another glass to take home.
You can always check your local wine shop to see if they'll offer up a free tasting for you.
---
Grgich Hills Estate
1829 St. Helena Highway
Rutherford, CA 94573
Phone: (800) 532-3057
---
If you're interested in cooking you can find some
recipes for dishes to pair
with Fumé Blanc (and the other GHE wines) here on the GHE website.
---
To learn more about Biodynamic agriculture you can check out this
Wikipedia article
.