Wine Recommendation
Lambert Bridge Winery
Only fully mature, perfectly ripe, and hand-selected grapes
become Lambert Bridge wines
by Debbie Chinn
Every now and then, I come across a winery that's almost too good to be true. Whenever that happens, I keep going back to taste, taste again, re-discover nuances and taste some more.
I love when that happens!
It was my good fortune to stumble upon the Lambert Bridge Winery in Healdsburg, California.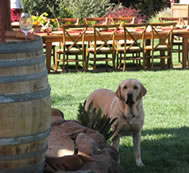 I was hooked the moment I drove through the gates and saw two friendly dudes come running to greet me as I stepped out of my car. Dude #1 was Bernie, the resident Saint Bernard, and Dude #2 was Gus, the Chief Turkey Chaser. They're often seen in the company of Heinzy, the Chief Financial Labrador.
After such a warm welcome, you truly feel compelled to walk into the tasting room. And what a gorgeous room, it is.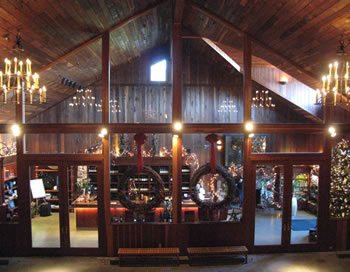 But it's the wine that really stands out as exceptionally memorable. Jill Davis and Jennifer Higgins are the architects of Lambert Bridge's artisan wines. Under their watch, only fully mature, perfectly ripe, and hand-selected grapes become Lambert Bridge wines. A tremendous amount of time is spent in the field – evaluating soil nutrients and water holding capacity, sun exposure and climate data – finding the perfect sites with conditions that enable Lambert Bridge to produce grapes with the most concentrated flavors possible. The grapes are hand-selected from clusters only at their optimal ripeness.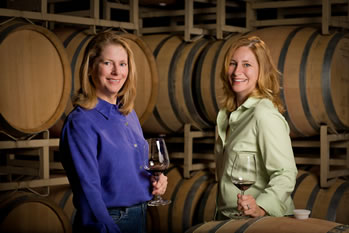 "Our processes are unusual in that they are very time consuming," says Jill. "They are expensive. To completely hand-sort fruit is extremely uncommon. You don't get the level of richness, balance and complexity found in our world-class wines by accident."
I'm a fan of all of their reds, particularly the Cab Francs. Every time I bring a bottle of Lambert Bridge to share with my persnickety wine loving friends, the comments are uniformly superlative.
---
An informal blind tasting
Recently, my friends Cheryl and Bob Guth had an informal blind tasting of Cab Franc blends over dinner at their home in Baltimore, MD. Joining us were two fellow wine aficionados who agreed to spend the evening guessing the origin of each Cab Franc. Bob selected Cab Francs from four different wineries. One from Napa, one from France, one from Washington State, and the 2008 Cab Franc from Lambert Bridge. Bob made sure to open the wines at the same time, he took care to pair foods that married well with Cab Francs, and only he knew which wines were being featured.
Throughout the evening, course after course, our friends declared with emphatic certainty that the glass that contained the Lambert Bridge was consistently the winner and further asserted that it had to be the wine from France. Meanwhile, I confidently knew the best tasting wine of the group was "my" Lambert Bridge. The distinctive black cherry and plum, with a hint of vanilla and soft gentle tannins gave this wine away. This was the first Lambert Bridge wine that I fell in love with and, like your first date, you never forget it. Imagine the surprise (for the others) and pride (for me) when Bob revealed that, no, the winner did not come from France; it came from good old California.
---
Influenced by European travels
Andy Wilcox, National Sales Manager at Lambert Bridge, explained to me that their winemaking is influenced by his father's travels throughout Europe. Their wine styles are Old World elegant combined with the intense flavors that are only found in Sonoma County fruit. I'm particularly grateful for the slightly lower alcohol content which provides for a far more subtle wine which is more food-friendly and ages more gracefully.
Impressive Wines
Let's not forget their other varietals which are equally impressive. If you're a Zin fan, the 2008 and 2009 Zinfandel blends really ought to be part of your repertoire when you're firing up the grill. They're made in Italian style which is to say they're not "hot" but incredibly smooth. A very small quantity of the Zins are produced (no more than 500 cases) and I'm partial to the Forchini Vineyards Zins, although the other Zin selections are equally lovely.
For an extra special occasion, I've stocked up on the '06 and '07 Crane Creek Cuvee. At $95/bottle it is admittedly a splurge, but these bottles will age well over time and I consider it a sound investment in my mental health.
White wine fans, don't despair! There are some delightful Chardonnays to choose from which may remind you of a white burgundy. The 2008 Chambers Vineyard Chardonnay and the 2009 Sonoma County Chardonnay are on the shy side — which is to say not too overly oakey. An easy everyday wine that won't break your budget is the Bevill Vineyard Sauvignon Blanc. All are 100% Sauvignon Blanc and would be the perfect dollop to savor on a warm Southern California summer night with lighter culinary fares.
Lambert Bridge Hospitality House and visits
One of the fun benefits of becoming a wine club member (or "Liquid Assets Wine Club") at the Signature Member level is that you get to enjoy a complimentary two-night stay for four people at the Lambert Bridge Hospitality House just up the hill from the tasting room. Waiting for me when I arrived were some bottles of Lambert Bridge wines and a mini-refrigerator stocked with all the basic ingredients for Happy Hour. The house comes with two bedrooms with two baths; each on opposite sides of the house for extra privacy, and a central intimate living room accentuated by a gas fireplace. A deck wraps around a portion of the house that offers breathtaking views of the vineyard. If you happen to go during Fall, you'll be surrounded with foliage that bursts alive with color. If I had my druthers and no one was looking, I'd defect there.
I would also defect to the picnic grounds since it is the typical bucolic Sonoma setting that you read about in all those glossy magazines. You're encouraged to stroll around and relax. No one really rushes you at Lambert Bridge and it's the perfect respite to the noisy and cacophonous world that we live in (looking at you, Los Angeles freeway system).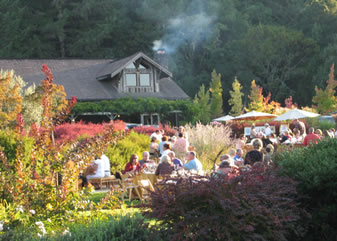 Getting to the winery from Los Angeles
Getting to Lambert Bridge or to Sonoma from Los Angeles is easier than you think. As of this writing, Alaska Airlines/Horizon Air flies direct from Los Angeles International Airport (LAX) to Santa Rosa/Sonoma County Airport (STS), which is also known as Charles M. Schultz named after the creator of the "Peanuts" cartoon series. It's also a nice roadtrip, about 7 or 8 hours north of Los Angeles off the 101.
Andy Wilcox put it best when he said that Lambert Bridge is great wine served with great food and shared with great friends. You may enter as a stranger but you'll leave as a life-long friend.
Gus, Bernie and Heinzy would agree.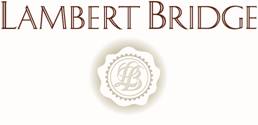 Lambert Bridge Winery
4085 West Dry Creek Road
Healdsburg, CA 95448
Phone: (707) 431-9600