Great Golf, Scenery, and Luxury — at Pelican Hill on the Newport Coast
About an hour's drive south of downtown LA lies the Newport Coast…
by Gary B. Hudson 
One visit to the Pelican Hill Resort's website and I was enticed to check it out. Could those spectacular photos and the two ocean-view golf courses live up to the experience it suggested? I made arrangements for my visit and looked forward to it. My brother Milton, one of my four weekly golf partners, accompanied me for the game. My sister in-law Stacy and our friend Sarita joined us because the beaconing resort proved irresistible.

From the moment we drove into the spacious Italian-style Piazza we were treated like dignitaries.
Entering the expansive, columned lobby we enjoyed a Roman temple-like feeling. Refreshing cold towels were offered as we checked in.
Stepping out onto the terrace, we took in the expansive panoramic view of the golf course, ocean, and the spectacular Roman Coliseum-inspired pool —the largest circular pool in the world.
Pelican Hill is, indeed, a full service resort. Their attention to this detail was again evident when the friendly Valet suggested strongly that we let him drive us the fifty yards to our bungalow.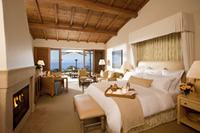 Our 847 square foot bungalow (the smallest offered) was a lavish, intimate room replete with such touches as an Italian limestone fireplace and beautiful handcrafted wood-beam alder ceilings. I was delighted with the private terrace and unobstructed ocean view.
After a short relaxation with a glass of Italian wine while changing into my snazziest golf attire, I called for the shuttle to the Clubhouse. Milt and I were anxious to play this stunning Tom Fazio course that received accolades from Golf Magazine as one of its 2008 Top 20 Courses in California.
Upon checking in with the Starter we were directed past a quaint café toward our cart and introduced to John Mouzon, our forecaddie. (Forecaddie service is included in your guest fees.) Milton and I played the Ocean South course, which like its sister course, Ocean North, offers stunning ocean views from nearly all of its 18 holes.
The fairway on the first hole was an appealing sight. Shaped like a barrel whose top half had been cut in half, both right and left sides would give my first ball a better than 50-50 chance of rolling toward the middle of the fairway if I produced a slight draw or slice. My mind and swing are always relaxed when I have an unobstructed shot towards the green.
Rarely does a hole cause me to stop and appreciate the surrounding vegetation. But approaching the green on hole #2, I had to do just that. The beautiful Lavender Bougainvillea vines surrounding the green were, without a doubt, a striking contrast amongst the surrounding vibrant greenery.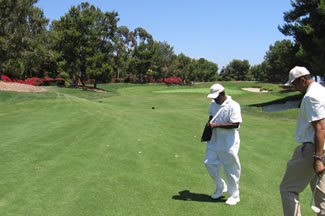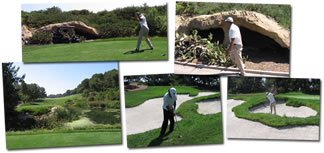 My favorite hole was #7.
It's a short par three — but oh, what a hole!
With a lake to the right surrounded by orange indigenous cave dwelling sized rocks I believed for a moment that I had stepped back into prehistoric times. It became slightly less appealing when my ball dropped into that lake, though.
Hole #8 shared the rock and was equally beautiful.
Around this point in our game, I was struck by how impeccable the fairways and greens were and how well designed the course was.
The fairways that didn't slope toward the middle were wide and spacious providing redemption or forgiveness to anyone with a high handicap. By now I'd also learned that the course could not be taken for granted. What made the course extremely challenging were the awaiting sand traps, false front and middle greens inundated with numerous slopes and the numerous lengthy par four fairways that become a challenge for even the seasoned golfer to land on the green in two.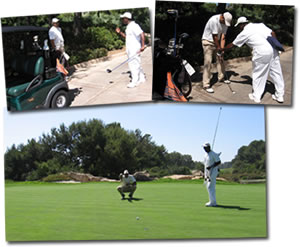 Our forecaddie, John, was quickly deemed invaluable for his helpful advice and intimate knowledge of the course and the game. Around the 8th hole he caught on to why we refused his well-meaning suggestions that we take a Mulligan on a badly struck ball. It was fun to see him get into the spirit of the ongoing competition between me and my brother — and the $20 wager we have for the overall whenever we play.
John warned us that hole #9 is the most difficult of the course, but we'd never have known it as we viewed the wide-open right side from the T box. When I hit a well-struck ball straight down the middle of the fairway, then hit an equally beautifully second shot and still couldn't get onto the green, I realized how right he was.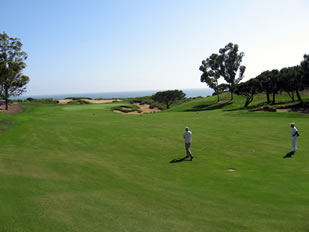 The signature hole on Ocean South is #12, a par 3.
It's right on the bluff overlooking the ocean, so you definitely don't want to slice to the left — and you need to be quite careful here as the green is almost entirely surrounded by sand further adding to the difficulty.
As we stood on the 18th hole that regrettably marked the approaching end, I could see the expansive resort resting in the distance like an ancient monument. It was quite a sight. But the game wasn't over just yet. With the need to drive my ball over not just one ravine, but two, that clubhouse seemed a lot further away than it actually was.
With regard to our wager, I was now two strokes ahead and feeling good. Unfortunately, my first ball landed in that first ravine, but lucky for me, Milton's first shot landed him in the sand trap, and it took another two to get out. That sealed the deal on our little wager. I came home $20 richer for the round.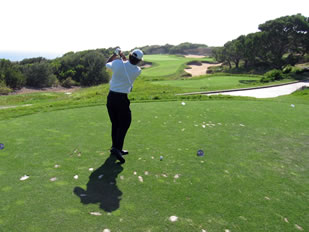 This was a thoroughly enjoyable course.

Pelican Hill is so well designed that throughout the round we felt like we had the entire course all to ourselves.
Each hole is seemingly ensconced in its own little world.
~~~~~~~~~~~~~~~
After a quick shower, a change of clothes and more fine Italian wine, Milton and I were ready to take the ladies out for a wonderful dinner.
The Pelican Grill was exquisite and we arrived in time for a wonderful sunset from our patio table. Each of us ordered a different entree: Colorado Chops, Filet Mignon, Short Ribs and Halibut. Each was succulent and cooked to perfection. The side order of Macaroni and Cheese took us by surprise. WOW! I never knew it could taste so good. At one point during dinner the chef introduced himself. He surprised us with a gift of Panko Encrusted Tuna, which was equally delicious. We topped off the meal with three flavors of Gelato, all made daily in the Pelican Hill kitchens.
Over dinner, our companions told us about their relaxing day lounging by the Coliseum Pool, sipping cocktails, savoring frozen grapes brought to them by attentive waiters, and swimming in the perfect 80° water.
After dinner I enjoyed relaxing in the deep-soaking tub.
From start to finish the Pelican Hill Experience was first rate leaving an indelible impression on me. I would call it an enclave of wonder.
---
---
Other amenities/services
For families there's Camp Pelican, entertaining children 4-17. Yes, children get the same excellent service, starting from their own check-in and welcome gifts.
Pelican Hill is a popular location for weddings.
The natural habitat offers a plethora of recreation and leisure activity:
water sports, hiking in Crystal Cove State Park and whale watching, to name a few.
Yoga Golf at Pelican Hill
Pelican Hill Resort also provides a unique Yoga Golf program, in which you are guided through a two-hour yoga regiment specifically designed for golfers to help you stretch, relax and loosen those vital joints and muscles that will help you maximize your golfing potential and experience.
Playing the Pelican Hill Course
Want to come down for a round? A round runs $235 or $135 at twilight. Packages enable you to add a night's stay and have to enjoy more of the resort's facilities. Extra games, for guests or replay, are also $235/$135. (2009 pricing)
Forecaddie Service
While caddies are more common, forecaddie service is offered only at the finest golf clubs. A forecaddie accompanies your group, not to carry clubs, but to allow you to concentrate on your game and ride in comfort. At Pelican Hill, your forecaddie goes ahead of you to mark where you shot lands, then on the green will advise on club selection, read the greens, rake sand bunkers, hold the flagstick, clean the cups, clean or replace balls, obtain yardages, and replace or repair divots. Forecaddie service is included in your package or daytime game fee, or is an extra $30 at twilight.
---
The Resort at Pelican Hill
A member of The Leading Hotels of the World
22701 Pelican Hill Road South
Newport Coast, CA 92657
Reservations and info:
(800) 820-6800 or (949) 467-6800
PelicanHill.com