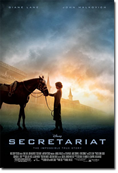 Not Just Another Film Review:
Secretariat
By Kristina N. Lotz
Growing up, my friend and I knew the story of Secretariat almost better than Cinderella. So, when we got the chance to go see Disney's Secretariat at the Burbank Studio lot, we jumped on it.
Directed by Randal Wallace (We Were Soldiers, Braveheart), Secretariat tells the story of the woman, Penny Chenery (Diane Lane) who believed in a fiery red colt when no one else did. John Malchovich plays the racehorse trainer Lucien Laruin, who comes out of retirement to train Secretariat and his usual brilliance provides some great comic relief throughout the film.
It took three years for the movie to be made, where an emphasis on accuracy took center stage.
The real Penny Chenery, now 87, was used extensively as a resource during the making of the film, and even has a cameo appearance in one of the racing scenes. (Thanks to YouTube, you can see some of the actual footage from his most famous race, the Belmont Stakes 1973. We share it for you below on this page.)
If you are not a horse person, you may find the movie cheesy, according to my friend. The storyline is clearly about the horse, and the family dynamic falls flat because of this, which may bore the non-equestrian. However, Malchovich's one-liners keep the movie light and moving along, while the filmography of the racing scenes captivates.
For those of us who owned our own toy Secretariat Breyer Horse growing up, complete with matching blue and white racing silks, or those who were fortunate enough to witness the real event, the movie is a nostalgic piece of history that should not be missed on the big screen.
The only thing I would have liked, would have been more stress on the fact that not only did "Big Red" break track records on those days, but according to theSecretariat Foundation website, he broke a world record at the Belmont Stakes. A record that still stands today, almost 40 years later.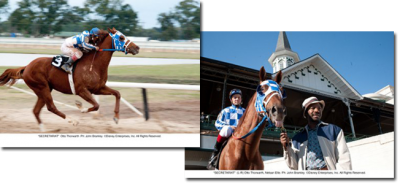 For More Info
For more information about the horse, the race, and the film, you can visit Secretariat.com and Disney.com/Secretariat.